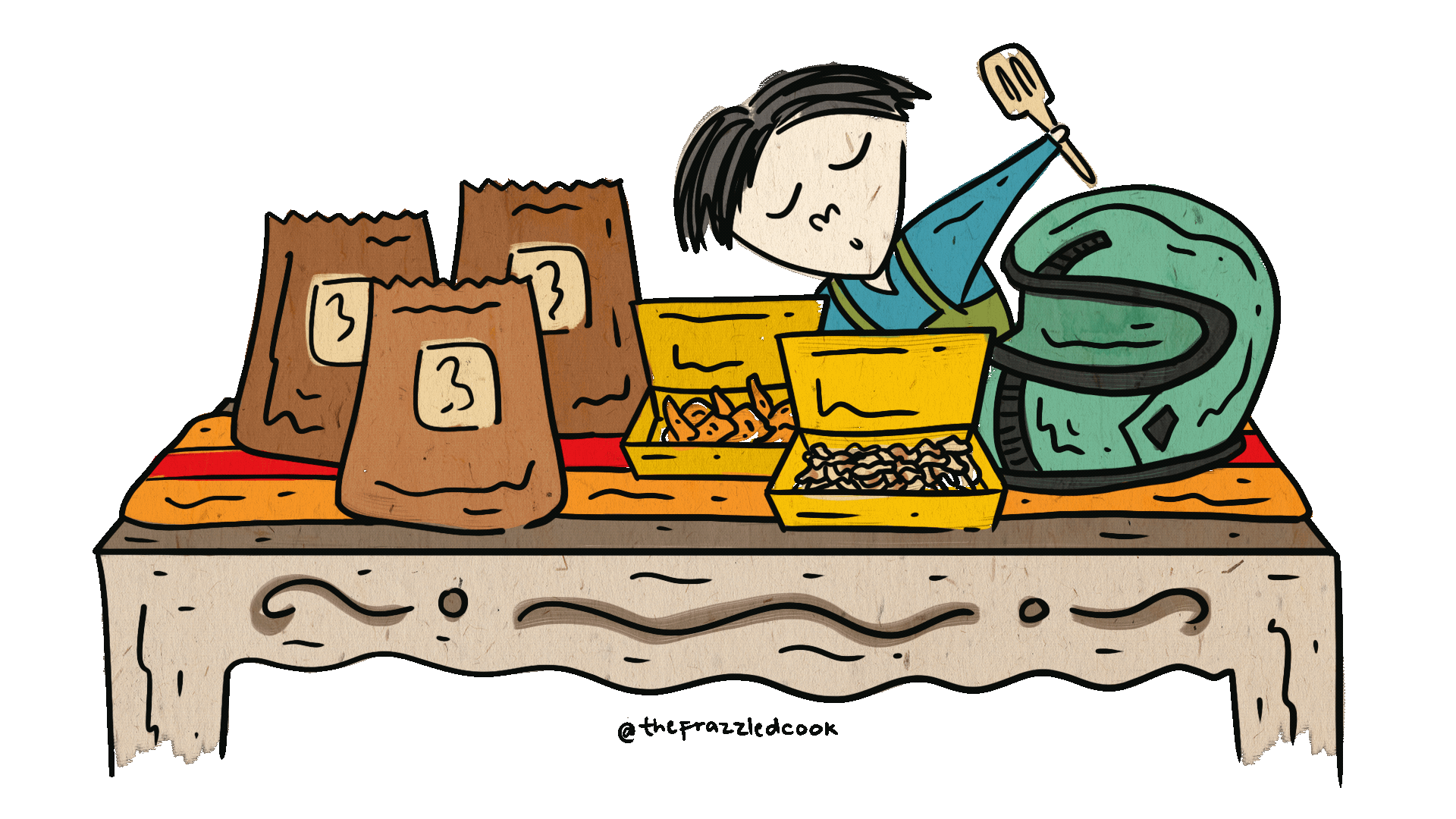 Delivery
Order and book in advance online! But for same-day orders and reservations, please call us directly at (+63)917-633-3352 or 8374-6879 from 10:00 am to 10:00 pm daily.
Garlic Parmesan Wings
Deep-fried chicken wings coated with fresh garlic and parmesan
Onion Rings
Battered and fried onion rings served with dip.
Frazzled Sisig
Classic sizzling pork sisig with our own special sauce mix.
Salted Egg Wings
Chicken wings with salted egg and fried basil. N/A
Herbed Chicken Salad
Crisp greens with strips of mangoes, generous serving of chicken and home-made croûtons with basil vinaigrette.
Squid Salad
Crisp greens with slivered prunes, walnuts, home-made croûtons, and sweet peppery squid tossed in basil vinaigrette.
Spicy Shrimp Pasta
A feast of spaghetti tossed in freshly grilled sliced garlic and shrimp drizzled with olive oil.
Truffle Pasta
Mixed pasta with sautéed Portobello mushroom and homemade white truffle sauce.
Baked Pasta
Three kinds pasta with homemade beef tomato and cheese sauce.
Chorizo Pasta
Sautéed homemade Casa Amarilla branded chorizo with garlic and olive oil.
Salted Egg Pasta
Fresh salted egg and tomatoes sauteed in garlic and olive oil.
Truffle Pizza
Cream-base pizza with button and fresh portobello mushrooms and truffle essence.
Seafood Paella
Paella rice with sauteed chicken bits topped with generous amounts of seafood and sausage.
Paella Negra
Squid-inked rice topped with squid, shrimp, sausage, and bell-pepper.
Lengua with Mushroom and Corn
Stewed ox tongue drizzled in white sauce and served with mushrooms, sweet corn, and buttered vegetables.
Rib-Eye Steak
Angus rib-eye steak grilled to your preference and served with homemade steak sauce.
Tenderloin Nuggets with Mashed Potatoes
Wagyu Salpicao
Mouth-watering wagyu beef cubes sautéed with sliced garlic and mushrooms.
Tenderloin Steak
Beef tenderloin steak grilled to your preference.
BBQ Beef Short Ribs
Slowly cooked goodness off the grill.
Beef Kebab
Skewered beef tenderloin and vegetables seasoned with our own special spices.
Fried Porkchop
Herbed breaded pork chop with homemade gravy sauce.
Pork BBQ Ribs
4 hour-simmered ribs glazed with our own bbq sauce.
Slow-Cooked Pork Ribs
Pork ribs cooked for 4 hours and simmered in our signature style sauce.
Grilled Pork Chops
2pc 200g chops marinated and grilled, served with side dish and corn.
Grilled Chicken Rosemary
Marinated quarter leg chicken that comes with side vegetables and gravy.
Spicy Chicken Kebab
Marinated and skewered chunks of chicken with buttered vegetables and gravy.
Grilled Salmon with Mango Salsa
Grilled salmon topped with our mango salsa mix.
Pan-Seared Dory
Fish fillet with thyme topped with garlic butter and grilled vegetables on the side.
Spicy Gambas al Ajillo
Sautéed garlic and shrimp with our own gambas spices.
Fish and Fries
Breaded fish fillet and fries served with aioli dip.
Vegetable Salad
Crisp greens with langka and pop beans tossed in honey mustard dressing.
Watermelon Salad
Fresh greens with alfalfa and corn drizzled with basil vinaigrette.
Mango Salad with Wasabi Mayo
Fresh ripe mango and greens drizzled with homemade wasabi mayo.
Kesong Puti Salad
Deep-friend kesong puti with fresh greens and aruguia in basil vinaigrette dressing.
Bleu Cheese Salad
Fresh greens and strawberries with crumbled bleu cheese and grilled chicken breast in homemade strawberry dressing
Pizza Caprese
Herbed crusted thin pizza dough with freshly grilled tomatoes, and kesong puti.
Scampi Pizza
Herbed crusted thin pizza dough with freshly grilled tomatoes, onions, and bellpepper topped with shrimp, squid, and kesong puti.
Tenderloin and Sausage Pizza
Herbed crusted thin pizza dough topped with beef tenderloin salpicao, bellpepper, and kesong puti.
Salmon Pizza
Herbed crusted thin pizza dough topped with salmon salpicao, bellpepper, onions, and kesong puti.
Chorizo Pizza
Homemade chorizo topped with bell peppers, cheddar cheese, and kesong puti.
Squash Soup
Roasted squash with stewed vegetables.
Mushroom Soup
Cream-based soup with trio of mushroom.
Sizzling Squid
Marinated squid with cured mangoes drizzled in vinaigrette
Cheeselogs
Breaded cheese sticks with fresh tomato salsa on the side.
Ceviche
Tanigue marinated in spiced vinegar
Cheese-Stuffed Chilli
Wrapped and deep-fried chilli with cheese
Grilled Cheese Stacks
Kesong puti and cheddar cheese sandwiched and grilled in herbed white bread.
Homemade Potato Chips
Thinly sliced fresh potatoes deep fried to a crisp and served with our home-made sauce on the side.
Truffle Fries
Deep-fried french fries tossed with herbs and dressed in truffle oil.
Sizzling Gambas
Sauteed garlic, mushroom, and supple shrimp with our special mix of spices.
Baby Squid in Garlic and Olive Oil
Sauteed squid in garlic and olive oil.
Shrimp Tomato Cream Pasta
Pasta al Nero
Spaghetti with homemade black squid ink topped with parmesan cheese.
Vegetable Pasta
Spaghetti pasta tossed with grilled zucchini and garlic and dressed with olive oil.
Pasta Cream Bacon and Sage
Spaghetti in sage cream sauce topped with bacon and parmesan cheese.
Tenderloin Nuggets on Flat Bread
Open-faced sandwich served with mashed potatoes and topped with tenderloin salpicao and gravy.
Spicy Lamb Stew
Lamb meat stewed for hours in fresh tomatoes, olives, and spices.
Chicken Marsala
Grilled chicken breast served with mushrooms, caramelized onions, and homemade marsala sauce.
Crusted Chicken Tortilla
Deep-fried boneless chicken thigh wrapped in tortilla with a side of mixed fruits.
Chicken Cordon Bleu
Deep-fried chicken fillet stuffed with cheese and bacon.
Fried Chicken
Breaded chicken deep-fried until golden brown and served with gravy.
Peppered Salmon Steak
Freshly-cracked peppercorns and herbs on salmon steak.
Grilled Tanigue Steak
Marinated and grilled tanigue topped with our version of herbed butter.
Tenderloin Nuggets with Mashed Potatoes
Basil Vinaigrette Salad Dressing
Our signature salad dressing now bottled! Our basil vinaigrette dressing is what we use for our classic best-sellers Herbed Chicken Salad and Squid Salad! 🥗 We also drizzle this over our new Watermelon Salad and Kesong Puti Salad found on our cafe menu 🍃
I'm so Frazzled! Beans
- Bold, Fruity, Aromatic - Hazelnut blend flavored coffee - Dark Roast.
What Time is It? Beans
- Bold, earthy - Barako Blend - Dark Roast
It's a Busy Day! Beans
- Bold, fruity - Single Origin Arabica - Medium Roast